To visit - Castle Badia in San Lorenzo di Sebato - Ladinia
A shrine full of precious finds from prehistoric and historic times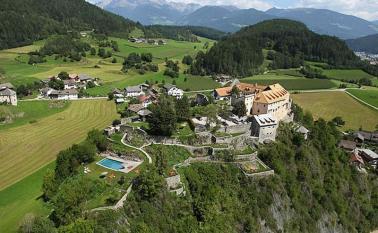 On the ancient prehistoric settlements the castle of Suanapurc (from the ancient german Suana: judgement – then called Sonnenburg) was built around the 1000 A.D. It was later trusted to the Benedictines sisters by the Earl Volkhold, then transformed into a monastery, becoming an important centre of the religious-political power and a seat of conflicts and disputes.
In 1785 the monastery was closed by the Austrian Emperor Joseph II, then it experienced a period of degradation until it was definitively renovated and transformed into a main touristic resort.

The archaeological excavations on the rocky hill of Castelbadia have brought to light settlements from the 3rd millennium b. C., as testified by the findings of a storage building for tools and stone weapons dating from the Eneolithical Age.
The settlement goes on (continues) from the Copper Age throughout the whole Bronze Age, as a drystone wall and several findings of furnishing prove. The Iron Age is also represented by some discoveries; furthermore several finds of the Middle Age are to be mentioned.