Antermoia / Antermëia - Val Badia
A proper and real oasis of relax at the feet of the renowned Sasso Pütia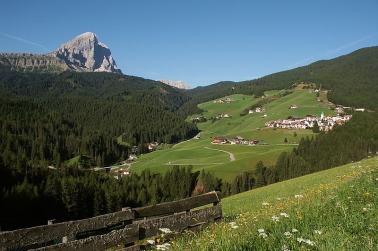 In a document dated the year 1263 there was written, for the first time, the name "Undermoy" and in another written piece of the year 1482 the name "Antermoja"; in the year 1883, the first ladin form "Andermeja" appeared. Antermoia with its 1515 mt. a.s.l. is the highest village of the municipality of San Martino in Badia.

The village lays down on a district of fields, grazing land and woods at the feet of Putia. From the village or the near Passo Erbe, the access to the Natural Park Puez-Odle is practically immediate. Among the most beautiful excursions we remind you the tour around the Putia and the excursion to Monte Muro.

During the winter season, in the town centre of Antermoia you will find a small ski lift, particularly suitable for families with children and for beginners. On the Passo Erbe (Bòrz in ladin) you will find slopes for cross country skiing and a sledding slope that reaches the village. The district of Kronplatz / Plan de Corones is only 8 km far from Antermoia.

Antermoia is also known for the rustic baths of Valdander, located in a narrow wooded cleft in the outskirts of the residential zone. The mineral water spring pours from the chalky rocks made of layers of Bellerophon, at a 100 m distance from the baths; the alkaline muddy water has a therapeutic, curative and toning efficacy. In particular you will notice sedative, antispasmodic and hypoallergenic characteristics.