Rina di Marebbe Val Badia - Val Badia
Peace of a rural and handcraft character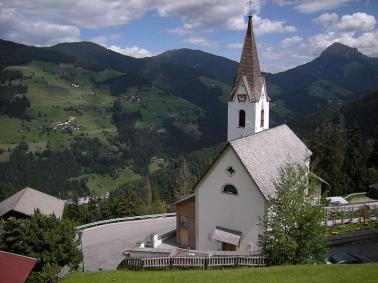 Rina is a village part of the municipality of San Vigilio di Marebbe, located on a steep and particularly sunny slope of Val Badia at 11450 metres a.s.l., and it represents, like "La Pli de Mareo", an ideal destination for those who are looking for silence, peace and quiet without giving up the days on the slopes or the walking tours in the natural parks of the valley.

Far only three kilometres from Longega and 11 from San Vigilio, it allows to have easy access to the Kronplatz / Plan de Corones skiing area or to the natural park Fanes-Senes-Braies. Also the Passo Erbe is relatively close and can be reached by foot for a walk around the Putia in the natural park Puez-Odle.

With its 500 inhabitants, the village presents mainly rural and handcrafts features and the typical structure of a mountain town of the Ladinia. The majority of the structures are concentrated close to the church, quoted in the year 1347 and dedicated to the saints Paul and Peter, but there are also farms made of a house and a hayloft isolated from the rest of the structures.

The close Munt de Rina is a small natural treasure, easy to be reached and with exceptional overlooks on the surrounding areas. Col dla Vedla, Lech de Rina and Bòrz (Pass Erbe) along with the close Putia are the most-longed-for destinations for those who are staying at Rina. During the winter you can enjoye the sledding facilities from the Munt de Rina with a specifically equipped sledding slope.

The environment of Rina of Marebbe is definitely familiar, made of small touristic infrastructures. The strength of Rina is the extreme quietness, that will allow your body and your soul to relax, for a holiday that will surely make you feel younger.