San Vigilio Marebbe / Al Plan de Mareo - Val Badia
The town of a thousand opportunities at the feet of the "panettone" of skiing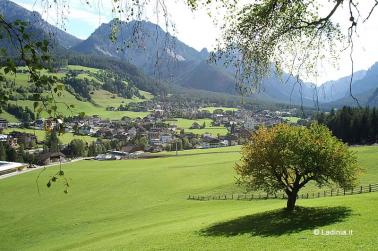 With its 161,34 km² the town of Marebbe represents, with its centre in San Vigilio di Marebbe, the largest of the five villages of Val Badia, where it covers a lateral valley in the northern part.

San Vigilio di Marebbe, called Al Plan de Mareo from the locals, offers facilities, accommodation services worth of the famous holidays resort which it represents. Tourism is in fact the most important economic source of the village, where the Kronplatz / Plan de Corones district and the natural park of Fanes-Senes-Braies are two main attractions upon which the touristic offer is concentrated.

Place of birth of the ladin heroine Catarina Lanz and rich in stories and legends, Al Plan presents many structures worth to be seen: the visit-centre of the natural park Fanes-Senes- Braies, the Baroque parish church, the Castle of Ras and the bell of peace Concordia on the Plan de Corones.

With its 1201 m high, San Vigilio is located in a basin particularly rich in terms of landscapes. The valley which leads to Pederü hosts the cross-country skiing centre during the winter and in the summer it represents the ideal location for walks and mountain bike rides. The near Piz da Peres, the "Munt de Senes", "Picio Fanes" and many other resorts are real natural paradise.

The village also offers an illuminated slope for night-skiing, sledding slopes on the Miara and from Pederù towards Fanes and Senes, a Zip-line starting from Ju and reaching the village and a pleasant town centre, where restaurants and shops can be found.