Val Gardena
Selva, Santa Cristina and Ortisei for 25 km of exceptional enchantment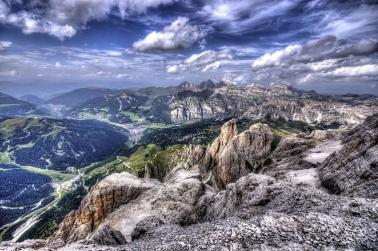 Gherdëina, Ladin name of the Val Gardena, is one of the five valleys of the Ladinia. Surrounded by North-Western Dolomites, the Gardenia Valley is located in South Tyrol and its three villages are a 25-kilometrers-long exceptional enchantment. The river that crosses it is the Derjon (Rio Gardena), that originates at 2240 above the sea-level on the Sella Pass and through Selva, St. Cristina and Ortisei and flows into the Isarco river at Ponte Gardena (471 a.s.l.). The Gardenia Valley is connected to other two Ladin valleys through two crossing places around the famous Sella Group. On the West side, through the Gardenia Pass you will reach the Val Badia, while on the South you will get to the Fassa Valley, through the Sella Pass. Since 2009 the Gardenia Valley mountains are recognized as natural heritage by UNESCO.

The natural framework which can be admired in this valley is of extraordinary value, among the most important peaks are to be remembered the "Saslunch", the "Sciliar", the "Cir" and, of course, the Sella. During the summer season, this heritage can be enjoyed through excursions, mountain bike, Nordic walking, rock climbing, possibly in one of the two natural parks at the border: the natural Parks of Puez-Odle and the Sciliar. In winter skiing, snowboarding and cross-country skiing are obviously the main activities, but also, snow walks, ice-skating, sledding, alpine skiing and ice-climbing. So, as everywhere in Ladinia, your free time is to be spent in nature.

The local, Ladin mother tongue population has strongly preserved Ladin traditions and culture, keeping its identity in harmony with the growing touristic economy. Alongside with tourism, an ever-growing economy is based on the art of woodcarving, and gardeneers show their talent with pride. Characteristic are the typical costumes, nowadays worn during folkloristic occasions and religious celebrations, among the best designed and most original of the region. The Gardenia Valley also offers a further value to culture passionates, since, together with the historically and architecturally remarkable churches, there are also many medieval castles, among which Castle Wolkenstein in Selva and Castle Gardena in St. Cristina.