Valle di Livinallongo - Val de Fodom
Ladin valley famous for skiing in Arabba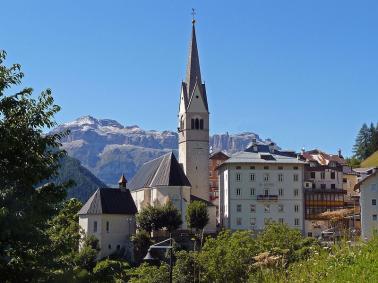 Fodom is the ladin name of the Livinalongo Valley, one of the five ladin valleys. The Livinalongo Valley is situated at the bottom of the Sella massif and is linked to the Fassa Valley through the Pordoi Pass passage; in the meanwhile, crossing the Campolongo Pass you can reach the Val Badia. Being part of the province of Belluno, the valley is occupied by one village, Livinalongo del Col di Lana, based in Pieve of Livinalongo. The small town is made of numerous scattered portions, among which the most important in terms of inhabitants are Arabba and Andraz.

Surrounded by the Dolomites, in the middle of a landscape of rare beauty, the Fodom Valley boasts its own geological shape: the Formazione of Livinallongo. Scenary of cruel episodes during World War I, today the ladin valley presents an important tourism-based economy, especially developed in the village of Arabba. The valley is linked to the famous Sella Ronda ski-tour, the Marmolada district and presents high-standards skiing plants, whose slopes have delicious views such as the beloved Portavescovo. Fodom enjoys extremely diversified landscapes, that allow the practice of various sports, using the skiing district or the huge amount of paths at the feet of the dolomitic peaks or simply relaxing in front of enchanting views.

You will also find cultural attractions such as Castle Andraz, which dates back to the year 1027, located in the homonymous town, the military fortress between Arabba and Pieve, built by Austrian soldiers, Catarina Lanz's grave, churches and chapels, as for example the one dedicated to the Apostles Peter and Paul in Arabba and the Ladin museum of Livinallongo.