Ski area Kronplatz / Plan de Corones
The panettone of skiing in San Vigilio di Marebbe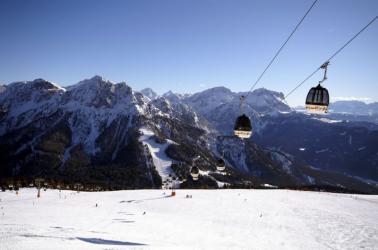 Kronplatz represents the most modern skiing "mountain" of South Tyrol. Evidence of this is to be found in the "Best Ski-resort 2012" award, that makes it at the first place among the skiing districts of all Italy and the 7th in the placement of the entire Alpine arch. As a matter of fact, skiing on the Kronplatz, Dolomiti Superski district, represents a not-to-be-missed experience.

Surrounding the spectacular panoramic platform, on the top at 2275 m., you will have at your disposal many kilometres of skiing, cross-country- and also sledding- slopes, together with the snowpark (underneath the upstream station of the Belvedere facility) and many snowy paths. At the top of the "panettone" of ski, that has grown up many of the winter sports champions, the peace-bell "Concordia 2000" finds place.

There is nothing else left than to face the vibrations of the beaten snow, the sunny days and the mountain dews services, the ski-schools and the renting centres, present at every point of the 116 km of slopes to be reached by 32 ski lifts. Furcia, Piz da Peres, Ju, Piculin are just a few of the ladin localities reachable or visible from the Kronplatz.

The Kronplatz / Plan de Corones district also praises the easy accessibility through the public means of transportation; getting off the trains at Perca it is possible to directly step into the cableway Ried, quickly plunging in the natural landscapes of Kronplatz. Well, in the end, the "Kronplatz" can count on all the necessary ingredients for a marvellous winter holiday.