Sella Ronda - one of the finest ski tour in the Alps
The most famous Skitour of the Dolomites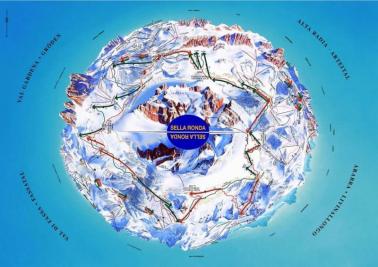 Certainly unique in its genre, the extremely well-known Sella Ronda is travelled every winter by thousands of tourists. As its own name tells, the "Sella Ronda" (Ronda meaning round) is a ring-shaped skitour, that completes its perimeter around the Sella Group, going through four passes: Gardena Pass, Sella Pass, Pordoi Pass, and Campolongo Pass.

The tour particularly stands out for the many landscapes of enchanting and elegant features. A variety of facilities will allow you to admire the massive rock formations, the stretches of hill country and woods and a spectacular snowy landscape.

The path consists in about 40 kilometres, 26 of which are slopes passing through the four ladin valleys, Val Badia, Gardena Valley, Fassa Valley and Arabba, and equipped with the best facilities and possible services. It is about an absolutely not-to-miss experience in the portfolio of any ski-lover.

The level of difficulty can be considered intermediate-high and the travel time is about 5-6 hours, also for the inexperienced, taken into account the resting and the waiting time. It is therefore recommended to leave before 10 a.m. in the morning, trying to complete the last Pass before 15.30 in the afternoon, in order to ensure to arrive to destination before the facilities closing times. It is also suggested a discreet physical preparation to face the two full hours of descents. The path can be done both in one direction and also in the opposite and it is equipped with mountain dews along the whole skitour. The valid skipass is the Dolomiti Superski.

Also to be considered that, in case of bad weather or bad wind, some facilities may be closed, so we always recommend to check the open lifts before leaving.