Longiarù / Lungiarü - Val Badia
A natural paradise full of traditions and historical evidence.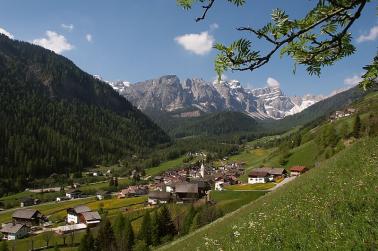 Longiarù is a modest rural village with only 700 inhabitants, set at 1400 m a.s.l. in the Longiarù Valley in the small town of San Martino of Badia in Val Badia.

The village, Lungiarü in ladin, can be distinguished by many other small towns in Val Badia for its typical rural landscape that is not far from the one you could have enjoyed many decades ago. Traditions, typical crafts and customs are particularly preserved thanks to the reduced tourists flow, particularly due to the morphology of the Longiarù Valley.

For the lovers of natural resorts, the rural town offers a really unique landscape, full of woods, grassland and fields well-distributed on the slopes, which will accompany you towards the powerful mountain chains, well-visible at every corner of the village. The Puez Group, the Gardenacia, the Crep das Dodesc, the Putia and the Piz Duleda are only a few of the Dolomites peaks that embrace Longiarù, making of the town village the ideal entrance of the Natural Park Puez-Odle.

The village is only five km far from the skiing slopes of Kronplatz of Piccolino, being one of the best alternatives for a winter holiday on the snow, with particularly fair relation between prices and offered quality.

The peculiarity of this town are "Les Viles" for sure, small rural dwellings that present joint buildings. The viles (houses) are especially well-preserved and concentrated at Longiarù; they constitute an important human trace of rural life of an ancient Val Badia.

Among the constructions, which recall ancient traditions, there are many water mills, situated along the streams of Longiarù, which are evidence that a long time ago local population was completely self-sufficient and economically independent. The water mills are concentrated in the so called Mills Valley, near the "viles" of Seres and Miscì.

Lastly we recommend you a visit to the town church devoted to San Iodocco and to Santa Lucia.

Nowadays Longiarù presents a discreet number of accommodation facilities with particular regard of farm holidays, that perfectly combine customer services and rural activities.