Cross-country skiing in Val Badia
Nordic skiing in Alta Badia and Kronplatz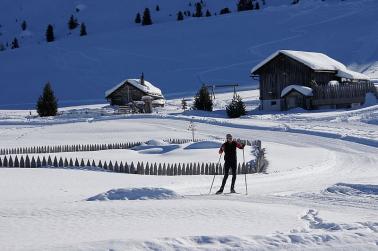 Cross-country skiing is getting more and more popular in the Dolomites. This tendency must to be comprehended: cross-country skiing gives us the possibility to practice sport away from the crowding of the ski areas and to stay in the virgin nature that Ladinia offers to its visitors.

Long snow-covered expanses, woods lit by the white surrounding, pure and sparkling air, a magic silence and peace, but first of all the Dolomites: these are here the main characteristics of the scenario that is waiting for the lovers of this sport.

Beyond this Val Badia offers also optimal structures, high quality services and equipped rental stores. Cross-country skiers will find in our valleys their dream place to practice this fantastic winter sport.

The area of Kronplatz presents a piste of 24 km that begins in the town of St. Vigil in Enneberg and arrives to Pederü and that consists in more loops of varying difficulty, both for those who practice classical style and for those who prefer skating. The ski area presents also a centre for equipment rental and ski schools offer both private and group lessons. The using of the cross-country piste "Val de Mareo" is for free.

In Antermoia the piste "Passo delle Erbe" (Würzjoch) offers nine kilometres of pistes in perfect conditions on the slopes of the Putia at an altitude of 2000 m, the dream of many cross-country ski lovers.

In San Cassiano in Alta Badia the perfect trail for this sport is represented by 23 kilometres among meadows and woods with a great variety of different routes. The surrounding of the locality Sarè- Armentarola is constituted by Conturines, Lavarella and Settsass. The cross-country centre presents well maintained pistes, a rental shop, a ski school, a bar and a restaurant.

In the area of Corvara- Colfosco Alta Badia offers 10 kilometres of well-kept cross-country pistes and with different levels of difficulty. Pistes are prepared both for classical style and for skating. The track starts near to the ski school Ladinia and and leads in part towards Pescosta and in part towards Colfosco.