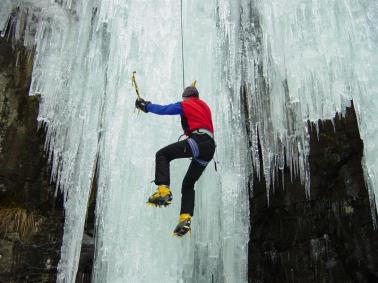 For thrill-seeking people and extreme sports lovers the winter period offers very good possibilities, and one of these is represented by climbing on ice. Climbing increased remarkably its public during the last years and for alpines that don't want to take a break during winter there are the many natural ice castings, waterfalls and rocky lands in a frozen guise, or equipped structures where the ice walls are artificially prepared.

To explore the ice walls of Val Badia from a different perspective, climbing on changeable surfaces practicing this intriguing activity in the Dolomites will give you much satisfaction.

However it is recommended to address local guides if you are not expert in this matter, especially for a correct evaluation of meteorological conditions. Climbing on ice can be a good choice also for not experts, that are accompanied by expert guides during the first risings to earn fast without incurring any kind of danger. Among the localities ideal for this sport we want you to remember the Gruppo del Sella/Sella Group, the waterfalls of Pisciadù, the Val Travenanzes, the Tofane, the waterfall of Sassopiatto and the Vallunga.